Ocean Lanka (Pvt.) Ltd., Sri Lanka's largest weft knitted fabric manufacturer is currently conducting third party trials for its very own all natural anti-bacterial face mask. The company has announced that it is adjusting its manufacturing process to help alleviate the shortage of face masks caused by the ongoing COVID-19 pandemic. Upon successful trials, the formal product launch is expected in mid-July.
Unlike other cloth face masks, this all natural mask is made from 100% Global Recycled Standard (GRS) certified cotton blended with organic cotton, and is effective at catching and filtering larger droplets when speaking or coughing. Recent AATCC 100 Antimicrobial fabric tests revealed that, the Holy Basil (Tulsi) and Neem (Kohomba) extracts applied in the face mask are very effective against contagious respiratory diseases, making it ideal for everyday protection.
Breathability of this face mask is maintained thanks to its minimalist design. The outer layer of hypoallergenic natural cotton material is covered by two overlapping layers with antimicrobial extracts. In this way, users easily breathe through the mask, where the triple-layer avoids direct exposure to the outside world. The World Health Organization (WHO) and the Sri Lanka Consumer Affairs Authority guidelines recommend that fabric masks should have three layers in order to be effective.
Managing Director of Ocean Lanka, Dr. Austin said, "As the world continues to battle the novel Coronavirus, the need for face masks have never been more urgent. We have recognized this need and have invested significant time and resources to design a sustainable mask with anti-bacterial properties, which is wearable for 8-10 hours a day and can be worn up to 20 washes. With current resources, Ocean Lanka is well poised to cater to the high demand for face masks locally and in U.S and European Markets."
He further added, "The disposal of face masks and medical waste during the COVID-19 pandemic is putting increasing pressure on the environment. And, we all need to take a proactive step towards environmentally friendly consumption habits. On this end, our washable and reusable face mask is an eco-friendly alternative to disposable or synthetic masks."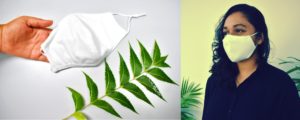 Photo Caption
Triple Layer All Natural Anti-Bacterial Face Mask