Pelwatte Dairy Industries, a name known to every Sri Lankan as a leading home grown dairy producer conducted a Christmas themed competition titled "Most Creative Dish" to celebrate and give its loyal customers a joyful, colourful and flavourful Christmas during the Month of December. The competition kicked off on the 15th of December with participants eagerly making submissions up until the 31st of December 2021. This initiative enabled many individuals to ignite their abilities using Pelwatte's Milk Based products with a Christmas Twist to it.
The mode of submission was on the Pelwatte Facebook page where hundreds of desserts and Christmas themed dishes were shared. Participants put their creative and sweet minds to work using various products of Pelwatte. From Christmas Logs to Christmas cake to mince pies and Santa's Favourite Cookies and Milk, participants went all out to display their work. Some participants even took to displaying it alongside their own Christmas decorations at home.
The Month of December is special because of the new calendar year and Christmas Season. It is almost as if everything around suddenly becomes full of decorations, lights, carols and of course, food. This season in particular helps bring out everyone's celebratory feelings with many Christmas themed functions happening. Given that for a good year or two the idea of sharing food was a risk, this campaign helped reignite that Christmas Spirit we all love and enjoy.
Mr. Akmal Wickramanayake who is the Managing Director of Pelwatte Dairy Industries had the following to say on the campaign: "Pelwatte Dairy Industries is a truly Sri Lankan initiative, which brings communities together through its products. If you think about it, we're there sharing the joy with many families at their food tables during every festivity. Christmas and its wonderful seasonal joy is no exception. And that makes us proud to be a truly Sri Lankan Brand".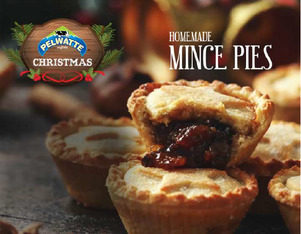 He further added "There has not been one initiative that Pelwatte Dairy has undertaken without taking into account its Pillars of trust, quality and connection. Pelwatte treats these pillars as a duty and service owed to all its customers. Stakeholders and even the rest of our Island Nation".
Keeping in line with the above, the competition aimed to foster a bond between participants and milk based products. Many participants explored their creativity by trying out many new recipes and dishes they could find online, and even on Pelwatte Dairy's own Facebook page. Some participants tried creating fusion dishes which involved variations of beloved South Asian desserts such as Gulab Jamun with a Christmassy taste. All dishes were encouraged to be made with Pelwatte products and if Pelwatte products were used they were encouraged to upload the picture of their dish alongside the Pelwatte Dairy product in a clear and creative way on the Facebook post which announced the competition in which many flocked to upload their work of art. Once participants did this, they were eligible for prizes and accordingly the following were the winners: Kavindi Amasha, Vickram Menan, Shali Madhushi, Farha Fana, Malani Dissanayake, Fathima Mursiya, Anoma Senevirathna, Surangi Henadeera, Yuwanthi Koralalge and Udari Jayasekara.
Participants clearly displayed enthusiasm by not only making their own "creative dish" but also shared this alongside their friends and families on their own accord thereby making it an activity that everyone could get involved in. Hence, achieving Pelwatte Dairy's Pillars of Trust, Quality and Connection.