Singer Sri Lanka PLC, the leading retailer of consumer durables in the country, has been honored with its 17th consecutive 'People's Brand of the Year' Award at the SLIM-KANTAR People's Awards 2023, organized by the Sri Lanka Institute of Marketing (SLIM). This achievement underscores Singer's supremacy in the consumer durables industry and the brand's widespread appeal in Sri Lanka.
Mr. Shanil Perera, Marketing Director of Singer Sri Lanka PLC, said, "We are deeply humbled by these awards, which were bestowed upon us by the people of Sri Lanka. Winning this award is a true reflection of the 'share of heart' that our brand holds within our customers. We remain committed to driving our brand purpose, which is to 'curate experiences' by providing relevant products and services across various categories that make it easy for everyone to enhance and elevate their lifestyle every day."
Mr. Mahesh Wijewardene, Group Chief Executive Officer of Singer Sri Lanka PLC, said, "We would like to express our heartfelt appreciation to our customers, as this achievement would not have been possible without their unwavering trust in us. Winning our 17th consecutive 'People's Brand of the Year' Award at the SLIM-KANTAR Awards is an incredible honor. It is a testament to the unwavering commitment and dedication of our team, who have worked tirelessly to transform Singer into a top-tier retail destination that caters to the ever-growing demands of our customers. This achievement is also a reflection of Singer's unwavering focus on our customers through good times and bad, always putting them at the forefront of everything we do."
The company also clinched the 'People's Durables Brand of the Year Award, at the same award ceremony.
Over the years, Singer has consistently refined its proposition and offerings as a brand, evolving from the trusted excellence of the past, to having 'Home at our Heart' in everything going forward. This proposition serves as a driving force for Singer's current success and future growth, as it continues to expand its range of products and services aimed at enhancing the lifestyles of its customers.
ENDS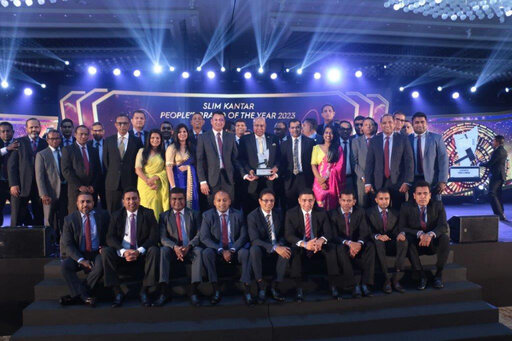 Image caption- The Singer Team at the Award Ceremony