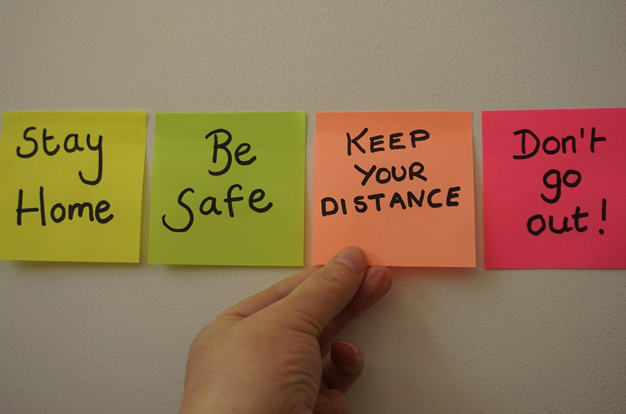 The coronavirus crisis has indicated a major twist in the approaches utilized by the corporate work setting all around the globe. Instead of visiting the office regularly and engaging in fieldwork, we have resorted to working from home and going digital.
Before we dive deeper into the SEO approach, let's have a look at the "new normal".
"A new normal is a state to which an economy, society, etc. settles following a crisis when this differs from the situation that prevailed before the start of the crisis (Wikipedia)."
Due to the pandemic, some of the indigenous work patterns and behaviors have transformed and there is a good chance that the transitions will reside even after the pandemic is long gone, such as:
Digitalize workflows: Organizations are in search of numerous methods to digitize workflows through virtual meetings, implementing project management tools, processing service providers' payments online, etc. by challenging the traditional methods.
Cybersecurity: As digitalization frequently increases daily and requires better privacy, cybersecurity is vital. Cybersecurity is considered to be the least important aspect to many Sri Lankan companies and the budget allocation for cybersecurity is onerous. However, the global pandemic paved an opportunity for companies to rethink cybersecurity earnestly.
Work-From-Home Culture: A major raise in the work-from-culture was observed locally and globally in the year 2020, which was not effective in the past few years. According to statistics it is stated that organizations are comfortable with the work-from-home culture and we believe this will continue even after the pandemic is long gone.
Online Shopping & Online Banking: A considerable number of countries including Sri Lanka have a largely cash-based society. The global pandemic created an opportunity to have more digital financial systems with more online shopping and online banking, with a paramount boost towards a more cashless society.
Adapting to Shifts in Search Behaviors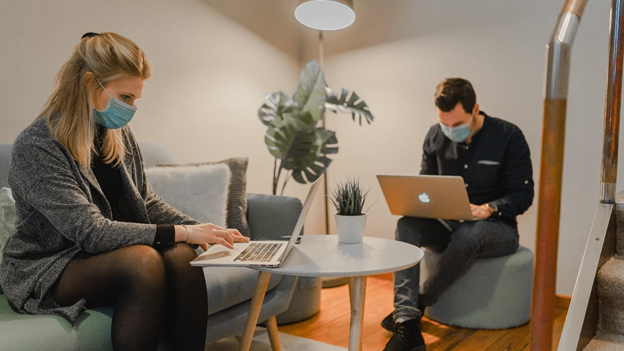 Changes in people's online behavior
Online activities, search topics, and preferences have changed after the pandemic hit the world. Worldata Research states that internet traffic has increased by 24 percent, and inbox activity has expanded as well.
When aligning with business activities, organizations should have new strategies to drive up customer interaction. Most of the businesses will likely see a large influx in search interest for their brand names as well as their offered products/services, during this time.
" Consumer priorities during this pandemic period"
Brand names, products, and services may significantly drop off in search interest as consumers rapidly shift priorities during the pandemic period. Hence, what facets do we need to closely monitor?
How do people search and how it's impacting both branded and commercial keywords?
We have been able to monitor that the local corporates branded keywords and a fair amount of search volume has dropped. This is a clear indication of users' prioritization since most corporations offer products and services that do not directly facilitate the basic needs of day-to-day life.
Monitoring the website performance to understand how users are converting during this period.
According to data, some of the channels that brought us revenue have indicated a reduction in performance and instead of that, a different channel has taken over the main income source. As an example, we have been able to observe this transformation during the last month, where one of the corporations that we work with, gained more revenue from Social Media campaigns than organic traffic, even though their rankings did not fluctuate. Hence, now we have diverted our focus into Social Media by tweaking other channel budgets.
Impact on Average Order Value
We noticed a substantial increase in the average order value from a majority of our clients and the assumption drawn up regarding the reason for the raise is due to the pandemic/lockdown situation.
However, a great significance is given to how the new trend has been searched. To understand the new trends, Google Search Console is a salient tool. When taking a close look at the last two to three months, we were able to find search terms that are beyond the ordinary search terms, consumers type. Some of these search terms clearly give you an indication on what are the long-tail keywords you prefer to be on top during this pandemic. Especially for e-commerce, we can observe more specific search terms than broad search terms during these days, which portrays that people are searching the product information directly rather than the main product category.
As expertise in the field, we recommend diversifying your SEO keywords strategy as branded, product-centric, and intent base that will give you more benefits than ever before.
Prioritize Top/Middle Funnel Content as Consumer Spending Changes
In terms of economic uncertainty, consumers only spend on products/services that are essential. While considering this, businesses should expect that their typical consumer behavior journey will fluctuate and they need to keep a close eye on this. Businesses should prepare themselves through investment in top/middle funnel content that helps users.
In this situation, we should focus on developing informative content around your products and services to build up E-A-T signals. In other words, we need to focus on developing useful, informative content that can reinforce expertise, authority, and trustworthy signals to search engines and customers.
Besides, giving priority to semantic keywords during the on-page content development will ensure search engines understand your content and will assist in better ranking for the page.
How to adapt your content strategy that can impact the funnel
As one of the leading SEO companies in Sri Lanka, we work with both local and overseas clients in different verticals. We would like to share some recommendations for your reference.
Ensure FAQ Sections are updated
Make sure your FAQ Pages and customer service pages are up to date with related information that includes delivery areas, delivery charges, and other relevant information that will facilitate a better user experience as well as more online visibility.
Update your Google My Business Page Your Google My Business Page can showcase more information about your company than you think. How many of you are aware that you can showcase how you operate your business during this pandemic via GMB (Google My Business)? They have given you options to indicate your customers whilst you can include health and safety information and update your customer as indicated in the screenshot provided below.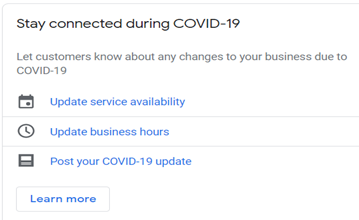 Develop more content, especially video content
Since the majority of people work from home and have the required time to spend on the internet, investing in video and other relevant content development will be extremely useful. When creating content we should consider the topics we select and for video content, it is crucial that we need to apply Video SEO tactics that can assist your videos to stand out among the other videos on YouTube and different channels.
As a leading YouTube SEO company, we are ready to assist you in optimizing your YouTube channels or YouTube videos.
Understanding SEO's Role in the new normal
It is tough to predicate how long Covid-19 will continue hampering the economy. SEO has an important role to play in both the short-term and long-term, hence it's advisable to plan activities in a way that deals with immediate challenges as well as keeping long-term effects in mind.
Unlike other digital channels, it is strenuous for SEO to change strategies frequently. Therefore we need to monitor each channel's performance, especially if you're using Google Analytics and have done the tracking ( goals or e-commerce) appropriately, merely accessing the " Channel Wise Report" will give you a clear understanding of performance, based on the channel.
If your online user behavior has changed it needs an instant solution, as it will negatively impact the revenue. Considering the other channels such as paid (search/social, etc.) campaigns to balance the digital marketing strategy is the best solution in the new normal.
Conclusion
The COVID-19 crisis has led to several unforeseen challenges for both online and offline businesses. It is now the time to adapt and change. We hope you find these actions useful when considering your SEO strategy. If you'd like to know any further information on how you can adapt your SEO strategy, don't hesitate to get in touch with us.
By Ishara Shehan Silva ( MCIM, MBCS,ASLIM)